Robot Update Software
Download our robot update software to get the full robot experience or change your robot's language.
Update your M.A.X. or Meccanoid to the latest version.
To update your robot or change its language:
Download the Robot Update software
Install the software on your computer
Locate the included USB cable
Connect USB cable to computer
Insert micro USB end into the port on the MeccaBrain™
Open the software and follow the instructions
Need help updating the robot?
Watch this instructional video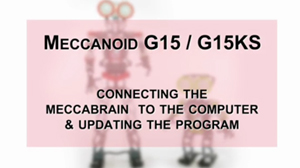 Download the Robot Update software
Select operating system
Download for MAC
System Requirements MAC OSX
Mac OS 10.6, 10.7, 10.8, 10.9, 10.10, 10.11 and 10.12 with the latest Service packs
Dual core processor 2.0 GHz or better
2GB of RAM or more
2GB of available hard-disk space
XGA display (1024 x 768)
1 available USB port
Download for WINDOWS
System Requirements Windows
Windows Vista (32/64 bit) excluding Starter Edition - with the latest Service Packs.
Windows 7 (32/64 bit) and Windows 8 desktop mode including Starter Edition - with the latest Service packs
Windows 10
Dual core processor 2.0 GHz or better
2GB of RAM or more
2GB of available hard-disk space
XGA display (1024 x 768)
1 available USB port
Download the Micronoid Code Programming Environment
Select operating system
Download for MAC
System Requirements MAC OSX
Mac OS 10.6, 10.7, 10.8, 10.9, 10.10, 10.11 and 10.12 with the latest Service packs
Dual core processor 2.0 GHz or better
2GB of RAM or more
2GB of available hard-disk space
XGA display (1024 x 768)
1 available USB port
Download for WINDOWS
System Requirements Windows
Windows Vista (32/64 bit) excluding Starter Edition - with the latest Service Packs.
Windows 7 (32/64 bit) and Windows 8 desktop mode including Starter Edition - with the latest Service packs
Windows 10
Dual core processor 2.0 GHz or better
2GB of RAM or more
2GB of available hard-disk space
XGA display (1024 x 768)
1 available USB port